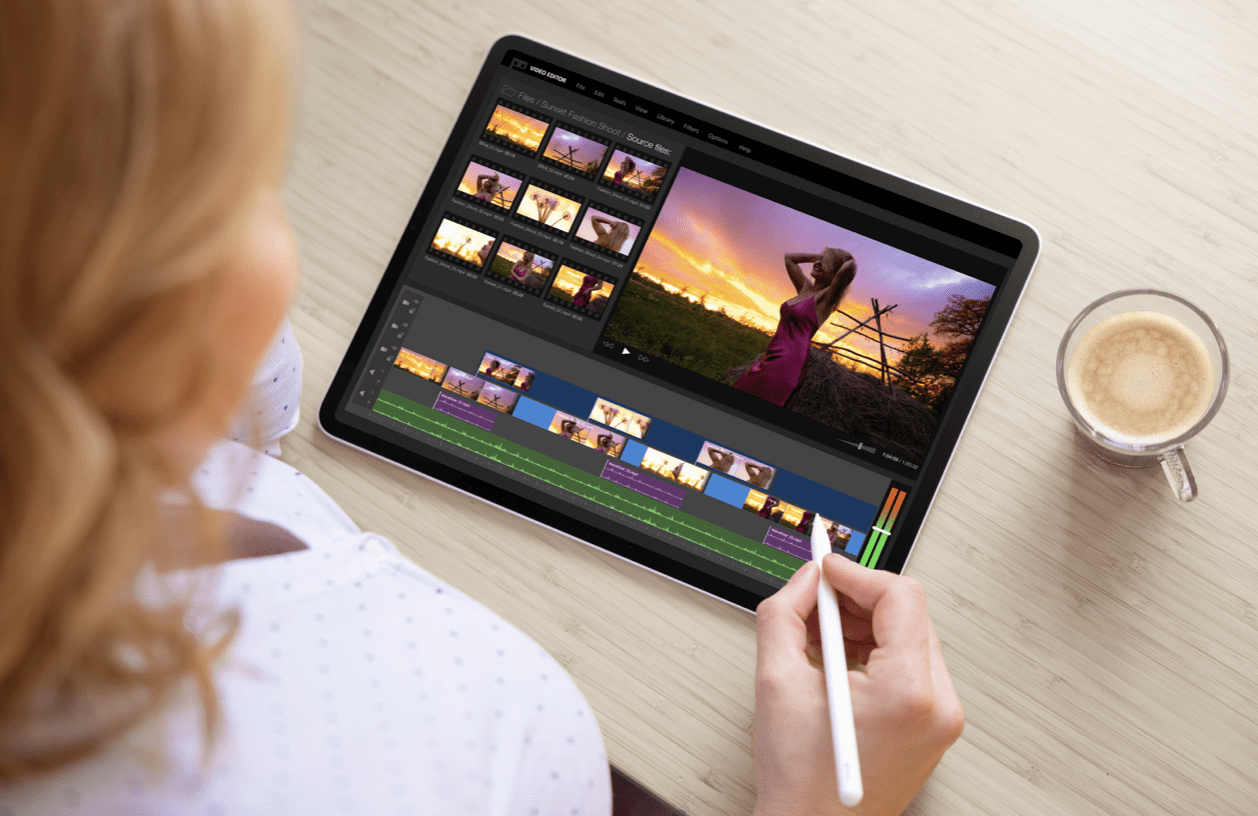 Did you know that 87% of video marketers feel that video gives them a positive ROI? (Harsey, 2021)? With the growing usage of video on various channels, video is becoming one of the most important content format to generate leads and promote products. Fortunately, there are numerous online video production tools for easy yet professional video production. Each tool specializes in different areas of content thus we've prepared the top 10 video marketing and production tools for different purposes and specialization with reviews from actual users. Check them out and see which one can help achieve your marketing goal!
Video editing tools
Quik is a mobile app developed by GOPro. Using Quik, you can easily add and organize videos directly from your phone's gallery with Quik's various original music, exclusive filters, and themes. Moreover, you can easily edit, add, move, and crop the video like any other video editing software. One of the interesting features of Quik is automatic video creation. The automatic video creation feature creates music-synced videos with your video selections. This feature can be especially useful for those who need to produce videos in a short period of time. Last but not least, if you are a GoPro camera owner, there are several extra features that make video production even more convenient. For example, you can use your phone as a remote for your GoPro, preview shots before transferring them to Quik, broadcast a live stream, and more!
One downside of Quik is limited elements for marketing or advertising purposes. As Quik specializes in video editing, it does not provide visual elements like animated text or props. Thus, we recommend Quik for the basic video editing like cropping or adding filters and use other tools to add more marketing elements.
Review
What users liked
Auto-generated highlight videos
Works with everything on the phone's camera roll
What users disliked
To basic auto-edit highlight videos
Connection errors
Some of you who do not have access to a laptop or computer may find the computer-based tools very inconvenient. In such a case, you should try PowerDirector. PowerDirector is a video editing app by Cyberlink. It offers for both iOS and Android at free cost. Unlike how most people think mobile apps cannot be as effective as computer tools, PowerDirector offers almost the same features as the desktop version. Using PowerDirector, you can create 4K-quality videos, use stock photos, music, templates, animated elements, and more. Furthermore, if you use a mobile app, you can record videos and directly insert them into the app. Many of PowerDirector's features are free so if you want to explore its potential, give it a try!
Review
What users liked
Cost-effective plans
Constant updates and improvements
Variety of functions
What users disliked
A bit difficult to use for new users
Some bugs and glitches
Limited color and sound effects
Social media video tools
Mojo is a mobile app that specializes in creating eye-catching social media content. As Mojo focuses on social media content, it provides various templates – Typography, Digital, Shop, Storytelling, Cinema, and Fashion – in a vertical layout that fits the phone screen. Furthermore, there are various fonts, filters, and visual elements powerful for marketing purposes. However, this also means Mojo is not capable of a film-like video or non-marketing purpose videos. Thus, we recommend Mojo for social media advertisements or regular stories.

Review
What users liked
Easy interface
Many useful animations
Variety of templates
What users disliked
Some bugs and lagging while editing
Biteable is online software that helps produce video marketing content. It offers thousands of marketing purpose built-in templates from social media advertisements to event promotions. Furthermore, it provides thousands of stock images, animations, and footage. Such a wide variety of templates and resources enables studio-quality videos in a snap. One of the helpful features of Biteable is its analytics feature. Using analytics, you can get insightful statistics such as views, engagement rate, and location tracking. Furthermore, if you choose the ultimate plan, it allows collaborative production with up to 10 users.
Review
What users liked
Professional final outcome
Easy interface
What users disliked
Some glitches when producing content
Can't cut and move the soundtrack
Ripl is another great video production software trusted by over 3.5M small businesses. It specializes in short, eye-catching, and creative social media posts such as Instagram ads or Facebook ads. There are thousands of pre-designed templates, stock images, and videos. By simply choosing the suitable elements with some customization, you can easily create professional animated videos for business. Furthermore, you can schedule your post and save time posting them. Last but not least, you can monitor your post on any device! If you are still unsure, why not first try 7 days free trial or free app!
Reviews
What users liked
Able to produce marketing messages quickly
Useful for beginners
Social media sharing function
What users disliked
Limited customizable elements
Limited functions and templates for a free account (app)
Lack video and images editor
Marketing video tools
Wistia is video production software that specializes in marketing and business content. Unlike animation tools or video editing tools, Wistia provides marketing-focused functions that allow to customize thumbnails, create logos, place calls to action, and more. Moreover, Wistia enables various integrations such as marketing automation, analytic integration, and more. For instance, you can integrate Wistia with Google analytics to get more insightful statistics like views, engagement rate, and segment. These insights can be very useful to come up with the best content for your target audience.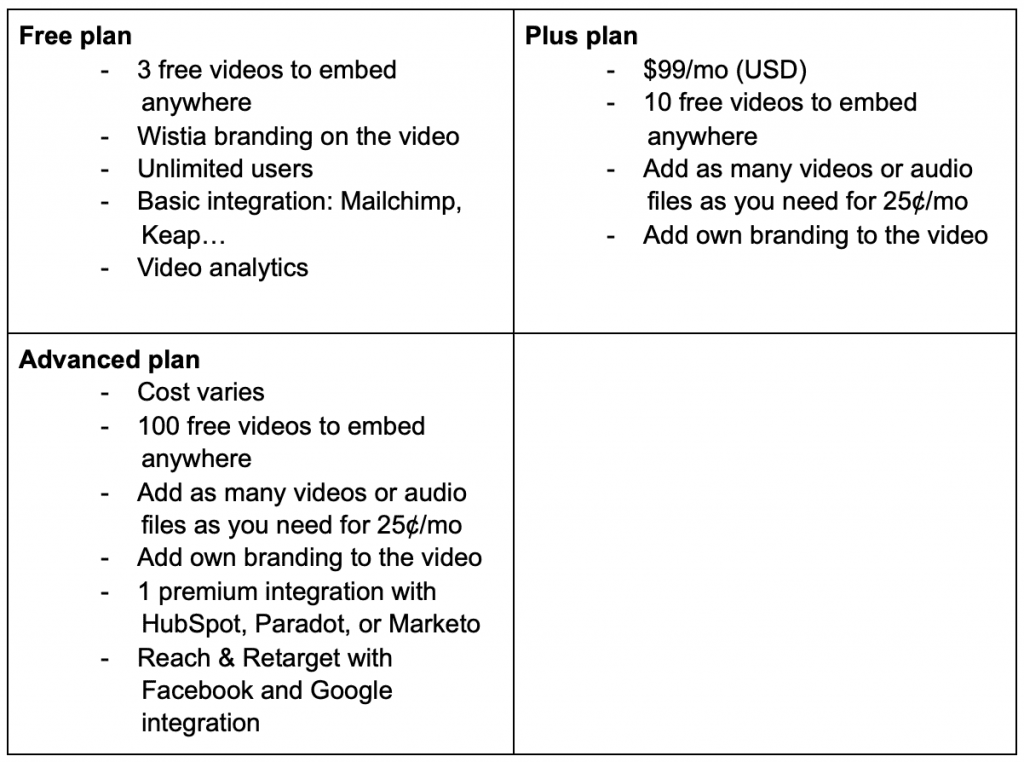 Review
What users liked
Video replacement function that keeps videos up to date
User-friendly interface
Various integrations
What users disliked
Limited analytics
Some glitches when moving a video from one project to another
Multi-purpose tools
Vimeo is a video hosting platform, yet also a great tool for video creation. It provides predesigned templates as well as customization. With a few clicks, you can get an appropriate template, theme colors, graphics, and fonts. Moreover, Vimeo provides mobile apps which enable it to easily insert footage or music into the content. Similar to other tools, Vimeo provides insightful metrics such as engagement rate.
Review
What users liked
Collaboration function
Privacy preference
User-friendly interface
Analytics
What users disliked
Slow/weak customer service
Several bugs that prevent from accessing statistics
While Canva is well-known for designing flyers, invitations, and social media content, it is also a great video production tool. Canva provides 100+ million photos and 610,000+ templates with new designs daily. Many of these useful elements are not limited to a paid subscription but also to a free plan. You can enjoy thousands of free templates, photos, graphics, and collaboration options even with the free plan. Thus, if you are new to video production or not sure which tool to use, Canva can be a great starting point.
One of the unique features of the Canva video service is the slideshow format. It may sound new and confusing but with their video templates, you will be able to quickly adapt to it. One thing to note is the length of the video template. Since Canva is in a slideshow format, each template only lasts for several seconds. So if you plan to produce a long video, Canva may not be the best option.
Review
What users liked
Simple and easy interface
Variety of templates and design ingredients even for free plan
Mobile app
What users disliked
Slow customer service
Several bugs that prevent from accessing statistics
Animation video tools
Animaker is software that specializes in animation production. There are 6 unique video styles – Infographics, Handcraft, Whiteboard, 2.5D, and Typography – as well as 100 million+ stock assets. Using a wide range of visuals and options, you can create various animations for your marketing channel. One of the great features of Animaker is its customizability. Animaker allows changing color, shape, and even facial expression of a character. For example, you may choose a specific hairstyle, outfit, and emotion for every character in the video. Animaker also provides tons of royalty-free music tracks and even 50+ voices for voiceover. Last but not least, it offers team collaboration even with the free plan. So if you are looking for animation software with no prior knowledge, Animaker can be a great option for your team!
Reviews
What users liked
Simple to use with online tutorials
Powerful character builders: diverse ethnic characters, poses, expressions
Cost-effective subscription plans
Excellent video transitions
What users disliked
Less professional characters: cartoon style
Slow download or export to YouTube
Static props
Powtoon is a video creation tool for presentations and marketing videos. It provides 100s of ready-made video templates, royalty-free images, and soundtracks for easy yet professional video production. Similar to Animaker, it allows customization for your own branded characters for specific usage. One of the unique features of Powtoon is the screen & webcam recording function. Using the capture function in Powtoon, you can insert yourself into your content to deliver a more effective and direct message. Moreover, you can integrate Powtoon with other tools such as YouTube, PowerPoint, Canva, and HubSpot.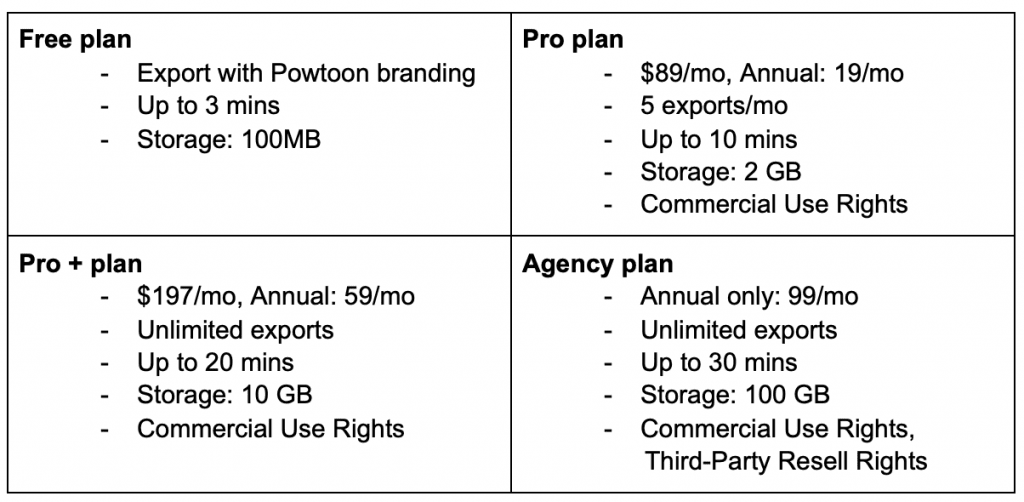 Review
What users liked
Simple and easy interface
Good collection of relevant & modern media/clipart
Community resources
What users disliked
Lots of paywalled content
Relatively expensive subscription pricing
Limited templates
Are You Interested In Other Marketing Tips? Then Check Out The Following Articles!
Beginner's Guide to Using Instagram Ads for Marketing
5 Steps to Build an Evergreen Sales Funnel
3 Ways to find TikTok Influence for your Marketing
Top 5 Industries that Benefit from Digital Marketing