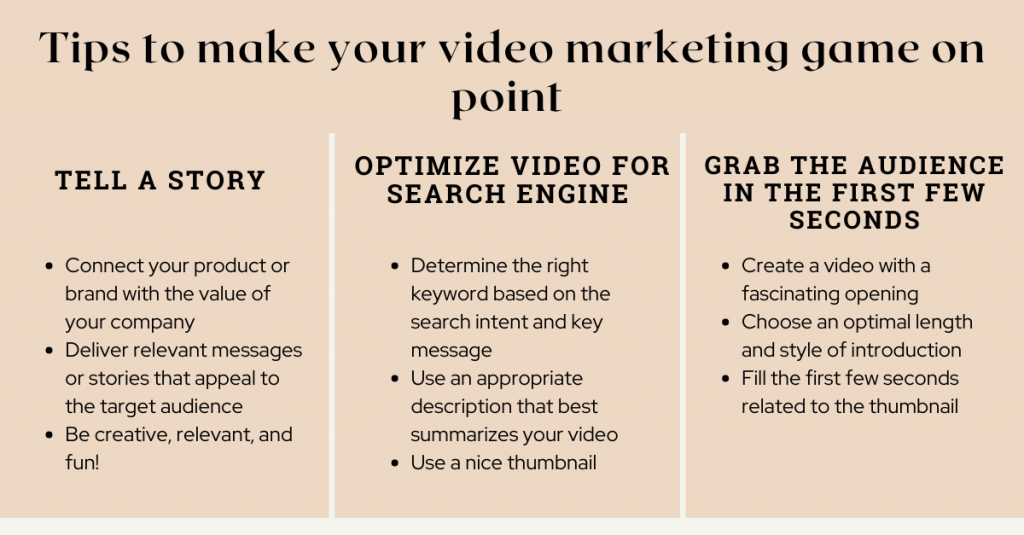 Videos are now one of the most common and popular media types worldwide. Today, 78% of people watch videos online each week (Perry, 2019) and 69% of people prefer to learn about a new product or service by watching a short video (Wyzowl, 2021). With the rising popularity of video, video marketing has become one of the essential and most effective marketing strategies for every type of industry. Yet, as it is relatively new, many marketers struggle to do well. Some also think it is better to focus on your stronger marketing strategy than to try a new one. That might work but as 99% of marketers claim to continue to use video in their marketing approach (Perry, 2019), video marketing is already a huge and further growing channel! So if you have not yet adopted and put much effort into video marketing, it is time to do so! Check out our video marketing tips to make your video marketing game on point!
Tell a story
Nearly 80% of people prefer brands that tell stories as part of their marketing.

Mortimer, 2015
Storytelling does not mean coming up with a random storyline that showcases your product. It means connecting the product or brand with the value of your company. By telling a fascinating story that portrays your company's value, the audience will feel more interested and connected to the brand.
Similar to content marketing, you should first study your target audience. This includes their interest, video consumption habit, lifestyle, and more. Based on their unique attributes, you should deliver relevant messages or stories that appeal to them. By producing a video that is more relatable to the target audience, you will be able to gain more attention, views, and even long-term relationships. You may also use an emotional trigger to make your video more memorable. There are numerous ways to build a fascinating story so be creative, relevant, and fun!
Lego – A Slimy Situation
If you are still not sure how to build a nice story for your brand and product, check out this advertisement by LEGO!
This video marketing content by LEGO was launched in 2017. This was the year when slime was the most popular trend amongst kids. Since kids are not interested in the history or functionality of LEGO, they focused on topics that kids find interesting. Using slime and hero stories that kids love, LEGO came up with creative, fun, and interesting animated videos using LEGO. As a result of this strategic approach, this video content became one of YouTube's most popular video ads in 2018 (Scenic road, 2018).
Optimize video for search engine
Similar to a blog or website, the video also needs search engine optimization to compete with billions of videos on the Internet. As videos are often semi-structured data, video SEO requires similar yet a bit different tactics.
Determine the right keyword
First, you need to determine the right keyword based on the search intent and key message. This is very similar to SEO keyword research and keyword planning for content marketing. Like regular SEO, you should choose more niche keywords based on the searcher's intent. You should check related keywords, keyword difficulty, and search volume to get the most strategic one. While choosing the keyword, you should also keep in mind that the search behavior is different between video search and blog or website search. Unlike other searches that use few keywords, people often use longer phrases and questions to search videos. For instance, to get a video on ice cream making, people will type "how to make ice cream at home" or "ice cream recipe" instead of "ice cream" "make ice cream". Thus, it will be helpful to use a keyword search tool designed for the video platform you intend to use. Some of the recommended tools are Ahrefs, Youtube Search Autocomplete, and Vidl IQ.
Use an appropriate title and description
Next, you should use an appropriate title and description that best summarizes your video. One of the few structured data of video is its title and description. This is the data that search engines can easily recognize and process. Thus, you should use a title, description, and even category that best represents your video. For instance, instead of using an eye-catching title like "You'd never seen this before", use a title that portrays the content of the video. Also, provide some description if possible, using the target keywords or related keywords.
Use a nice thumbnail
Last but not least, use a nice thumbnail. Don't judge a book by its cover. You would have heard of this phrase. Well, this is not the case for video. Along with the video's title, the thumbnail portrays the content of the video. It is like an image version title. You might wonder how such unstructured data – image- can be important. As you think, the search engine will not solely use a thumbnail to analyze the content or quality of the video. Instead, based on the number of clicks and watch time, the search engine will categorize the relevancy of the video with the keywords the searcher has used. Therefore, choose the thumbnail that is not only eye-catching but also relevant to the content. Also, as 90% of best-performing videos on YouTube have custom thumbnails (Creator Academy, NA), try creating a nice thumbnail rather than using a random scene from the video.
Grab the audience in the first few seconds
Imagine the time when you watched videos on social media. This may include Twitter, Facebook, Instagram, YouTube, or TikTok. Do you remember the time when you left the video within a few seconds? We are pretty sure you have at least some similar experiences. Well, this is very normal as people's attention spans are tiny. In fact, research suggests that marketers only have 10 seconds to grab an audience and after these 10 seconds, the engagement drops off significantly (Wouter, 2017). In other words, if your video does not grab the audience's attention almost instantly, you are likely to lose them even before delivering the message.
Then what should marketers do? The answer is simple. Create a video with a fascinating opening. Rather than starting the video with a typical introduction, start it with a more interesting message or visual. If it is an informative video, you may start with a short introduction with key points. Or if it is a product review, you may show a short clip of the most interesting or funniest part of the video.
Choose the optimal length and style of introduction
Furthermore, depending on the video platform, you should choose the optimal length and style of introduction. There are various platforms with different rules and features. For instance, Instagram only allows a maximum of 60 seconds of video while YouTube allows up to several hours. Based on these, the user behavior varies as well. For example, as YouTube allows long videos, the engagement of a 4-minute versus a 10-minute video is not significantly different in YouTube (Fishman, 2016). On the other hand, as Facebook specializes in text and image posts, the optimal video length of Facebook is 30 to 45 seconds (Wouters, 2017) Furthermore, while the content style of YouTube is more furnished, the content style of TikTok is more amateur yet creative and authentic. This makes some platforms prefer a more well-edited introduction while some prefer a more eye-catching opening. Therefore, before making a video, first study and research the trend and style of each platform to choose the optimal type of introduction.
Fill the first few seconds with scenes related to the thumbnail
Finally, you should fill the first few seconds of the video with a highly related scene of its thumbnail. When the audience chooses to watch your video amongst others, its thumbnail would've played a major part. This means they expect to see the content or scene of the thumbnail in the video. You may think as long as the thumbnail appears in some part of the video, it is still relevant content the audience expects to watch. Well, you are not completely wrong, but the audience's attention span is not that long to wait for it to appear. If they don't see content related to the thumbnail, they are very likely to lose interest within a few seconds. For instance, if the person in the thumbnail does not appear in the first part of the video, those who expected to see him or her are likely to leave the video. Thus, make sure the first few seconds of your video are highly relevant to the thumbnail.
Are You Interested In Other Marketing Tips? Then Check Out The Following Articles!
Beginner's Guide to Using Instagram Ads for Marketing
5 Steps to Build an Evergreen Sales Funnel
3 Ways to find TikTok Influence for your Marketing
Top 5 Industries that Benefit from Digital Marketing
References
https://www.wyzowl.com/video-marketing-statistics/
https://www.thedrum.com/news/2015/06/22/infographic-80-people-want-brands-tell-stories
https://creatoracademy.youtube.com/page/lesson/thumbnails#yt-creators-strategies-1
https://blog.hubspot.com/marketing/youtube-seo