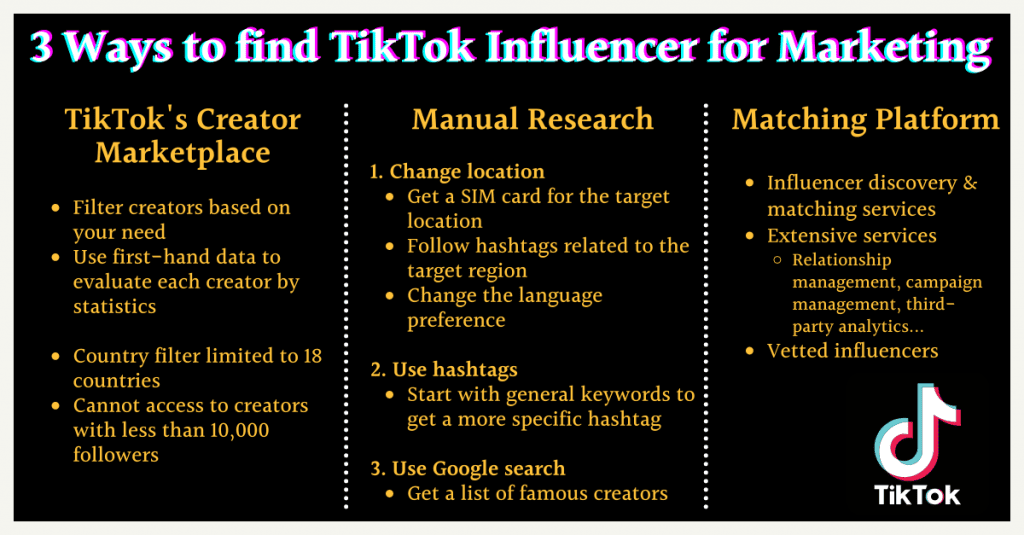 As many of you already know, TikTok is the fastest-growing social media platform in 2021. It is the sixth-largest social media platform (Kemp, 2020) with over 500 million monthly active members (Fanbytes, NA). Unlike Instagram that focuses on photos, TikTok focuses on the creation of original short videos that are trendy, creative, and entertaining. Yet, similar to other social media platforms, TikTok offers several paid ads services to companies. These include in-feed ads, branded TikTok stickers, TikTok hashtag challenge ads, and more. Amongst them, TikTok influencer marketing is one of the most effective marketing tactics in TikTok. Using the right influencers, marketers can reach a highly relevant audience and even encourage them to engage and produce effective marketing campaigns.  
Surprisingly, there are over 50,000 TikTok influencers with 1,000+ followers. Each specializes in different content, target audience, message, and this makes it challenging for marketers to select the right influencer for the campaign. In this article, we'd like to introduce the 3 main strategies marketers can use to find the right influencer. Each strategy has pros and cons so check them out and find the most suitable one for your marketing campaign!
TikTok's Creator Marketplace
TikTok's Creator Marketplace is one of the new yet very helpful TikTok marketing tools. Using Creator Marketplace, you can filter a bunch of influencers who fits your marketing purpose, budget, topic, region, target audience, and more. It also offers core metrics, sample videos, and audience demographics to help compare and evaluate each influencer by statistics. Using precise and credible data by TikTok, you can easily shortlist and contact them via the internal tool. Furthermore, you may monitor the performance and progress as it goes using the internal tool.
The biggest advantage of TikTok's Creator Marketplace is its first-hand data/analytics. Using various data like engagement rate, performance trends, and more, marketers can choose the right influencer who has sufficient capability to reach the target audience. Moreover, you can directly contact the creator without manually collecting their contact information. However, the country filter is limited to 18 countries and you cannot access creators whose followers are less than 10,000. This limits marketers to reach different sizes of influencers who are more niche or affordable.
Manual research
Even though TikTok's Creator Marketplace seems like the best option, it lacks access to the small niche creator. Thus, manual research can still be helpful if you are looking for an influencer who does not appear in the Creator Marketplace. The following are the 3 steps to manually look for the right influencer so keep reading!
1. Change location
The first thing you need to do is setting the location or region based on your target audience. TikTok automatically recommends the creator or content by your GPS data. Thus, if you want to target an audience overseas, you will need to change your location to find influencers whom your target audience is likely to follow. There are several ways to achieve this. First, you may get a SIM card for the target location. TikTok uses information from SIM cards to identify the user's location. Therefore, a local SIM card will help you get more relevant TikTok creators.
Secondly, you may change your language preference and engage with content from the target regions. For instance, if you intend to target Canada, following Canada-related hashtags, like Canadian lifestyle or creators may be helpful. If your target region uses its own language, adding that language in your preferences setting can be helpful as well.
2. Use hashtags
Once you've set your account location, it is time to look for a creator. You may already have a specific keyword you'd like to use. However, if you don't have any idea, start by searching general keywords like 'fashion' or 'accessories'. By searching these keywords, you will get relevant hashtags with a more specific niche. Look through different hashtags and find a creator who seems to suit your purpose and target audience. You may visit audiences' profiles via the comment section to check if they are the ones you are planning to target.
3. Use Google Search
If you don't have time to look for each hashtag or topic, you may consider using a google search to get top TikTok creators. For instance, if you look for a fashion influencer, you may search 'Fashion TikTok creators' or 'Fashion TikTok influencers' to get a list of famous influencers. However, you should still visit their account to check the target audience, content style, and more to ensure that they are suitable for your marketing goal. Moreover, as Google usually only suggests popular influencers, this method may not be very efficient if you look for a very specific niche.
Matching platform
Some of you may not have sufficient time to compare and shortlist TikTok influencers. Or some of you may feel unsure if your shortlisted creators are suitable ones. In this case, you may consider using matching platforms!
There aren't as many matching platforms as other social media like Facebook or Instagram. Yet, there are still several helpful influencer matching platforms. These include Fanbytes, Grin, CreatorIQ, and Neoreach. Most of them offer influencer discovery or matching services along with more extensive services like relationship management, campaign management, or third-party analytics (Geyser, 2021). Moreover, they vet, sort, and match using their algorithm. Therefore, if you have enough marketing budget, a matching platform can be a great option to save time and get the best result without any hassle.
Are you interested in the Top 5 Industries That Benefit From Digital Marketing? Then check out this article!
References
https://wearesocial.com/blog/2020/01/digital-2020-3-8-billion-people-use-social-media
https://fanbytes.co.uk/boosting-tiktok-influencers-with-this-clever-trick/
https://mediakix.com/blog/tiktok-creator-marketplace-tcm/
https://influencermarketinghub.com/tiktok-influencer-marketing-platforms/