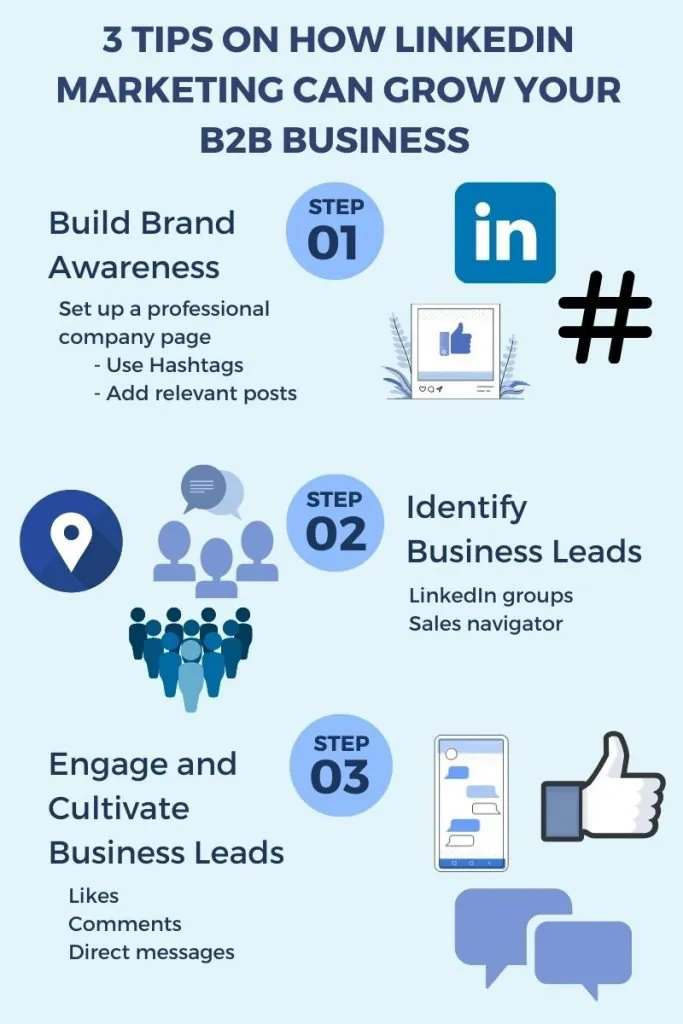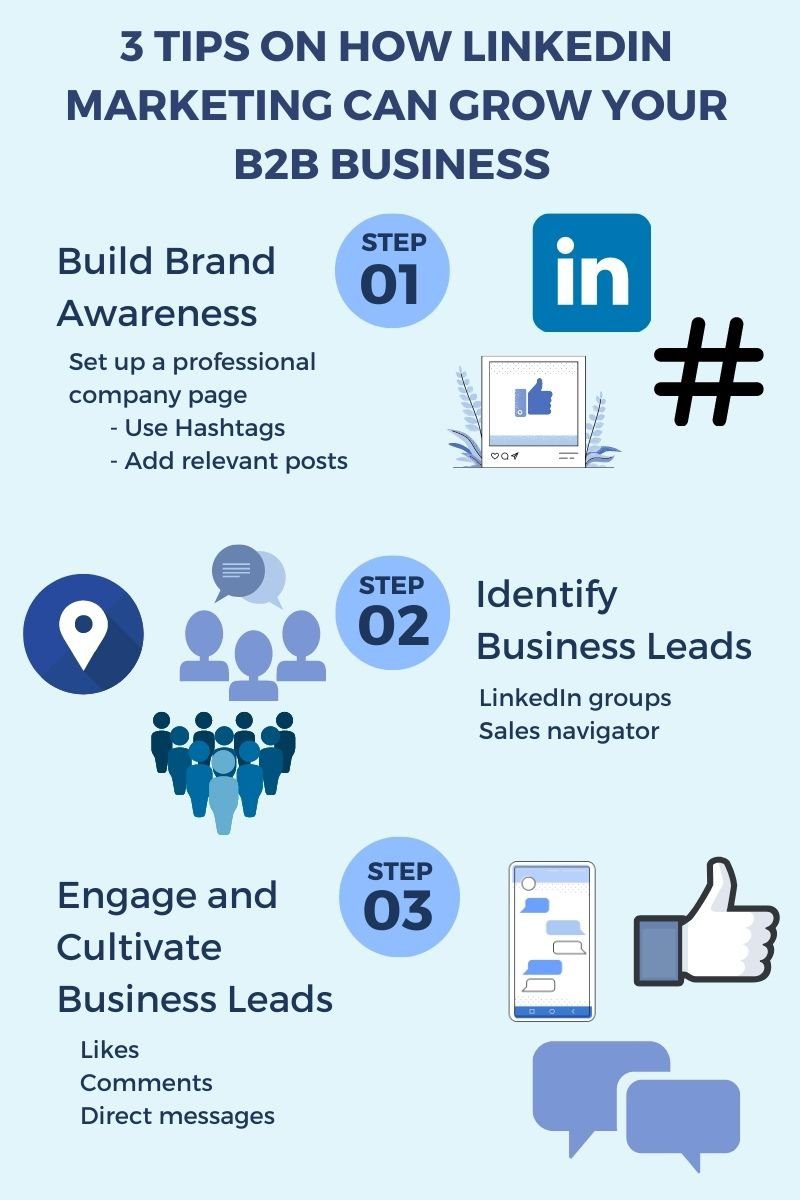 Social media is now a part of our daily life. We begin our day, record our moments, and communicate using social media. It is not an exaggeration to say social media is one of the most useful tools in our life. Thus, it is now time to change marketing strategies to adapt to this new lifestyle. 
In this article, we will cover the 3 most useful B2B marketing tips you can adapt using the business social media platform called LinkedIn. These guidelines will allow you to kick-start and improve your social media marketing at a low cost!
1. Build brand awareness
Vecteezy.com
LinkedIn profile is like your company website or portfolio. It conveys the message, value, and image of your company. By creating a professional LinkedIn profile, you will not only better showcase your company but make it more searchable. Therefore, you will need a well-designed LinkedIn profile to reach out to your potential business partners. Amongst various features, these are the basic strategies you can easily use to create a profile page that raise awareness of your company.
Set up a professional company page
There are nearly 756 million users on LinkedIn in over 200 countries (LinkedIn, 2021). This enormous number makes it seems almost impossible to reach out to a specific relevant audience. But don't worry! LinkedIn is a search-friendly platform. By optimizing your profile with the right category and description, you can connect with LinkedIn members with similar interests. To optimize your LinkedIn page, simply go to the 'Edit' page to provide details. This includes description, website URL, industry, company size, and more. The more details, the better! Also, don't forget to use a professional profile picture for professional branding. By simply optimizing the profile, your business page will be more searchable and trustable.
Use Hashtags
It is not enough to just wait for your company to be discovered. To raise better awareness, use the hashtag function. Similar to Instagram or Twitter, hashtags on LinkedIn categorize the content. By adding hashtags to your posts or profile, users who are interested in such topics will reach your page. For example, if your company is in the marketing industry, add hashtags like #advertisingandmarketing or #branding. Also, follow some relevant hashtags to see what's going on. This will help build awareness and generate leads to your company page.
Add relevant posts
A well-optimized profile can bring more visitors to your page. But without useful or interesting posts, it is very difficult to make them find interest in your company. To grab these precious visitors, share relevant content to your company. It can be your company's new campaign, interesting news, or shared posts from the same industry. Use different media, hashtags, and content to find the best communication method for your target audience. This will attract visitors' attention and show the expertise of your company.
Moreover, build the company branding by engaging users to your posts. LinkedIn is programmed to boost posts that gain enough comments and engagement. This means the more posts and engagement you have, the better it will appear on searches. So share content regularly and engage your users to comment on your post. It will take some time at first to cultivate business leads. But don't give up! By using relevant hashtags and authentic content, you will be able to develop a strong branding of your company.
2. Identify business leads
Vecteezy.com
Once you are ready with a well developed profile page, it is time to connect with relevant users. The most basic and direct method would be using search bars. You may search them based on country, occupation, or company. Many people only focus on using the search results. However, there are many other tools you can use to better identify your potential business leads. Amongst them, we would like to introduce you to two effective tools.
LinkedIn groups
One of the useful features that LinkedIn provides is a group function. As the name implies, the group allows users with similar interests to join to share useful information, thoughts, and ideas. You can navigate to LinkedIn Groups by clicking the 'Work' bar on the top and use filter to search for a group with similar interests. For instance, if you are in HR services, join groups like Linked In: HR (#1 Human Resources Group) to stay connected with different issues, trends, and interesting topics in the industry. Use LinkedIn groups expand your social network as well! By connecting with the members of the group who have similar interests. Use this feature wisely to reach out to your potential partner.
Sales navigator
If you are interested in more advanced and professional tools in LinkedIn, consider using LinkedIn Sales Navigator. Sales Navigator is a premium feature on LinkedIn that helps you to find and connect with your target audience more easily. Sales navigator provides more advanced search filters, allows you to save up to 10,000 leads and send 50 InMail messages each month for potential leads (Frost, 2021). Other than LinkedIn sales navigator, there are many other automation tools like Expandi so choose the one that is suitable for your business goal.
3. Engage and Cultivate business leads over time
Vecteezy.com
Even though B2B marketing is a less emotional marketing approach, a stronger relationship brings a stronger response from the potential partner. Traditionally, there was no efficient communication tool to connect with potential partners. But with LinkedIn, you can build a meaningful relationship even without face-to-face interaction. The followings are some of the basic LinkedIn Marketing strategies you can use to build a meaningful relationship using LinkedIn.
Likes
Just like Facebook or Instagram, you can 'like' posts on LinkedIn. Liking others' posts takes less than a second but this still shows your interest in their content as well as themselves. By appearing often in their notification and profile, you will not only make a positive impression but also raise awareness of your presence. So, if you are not ready for intense engagement, start by liking their activities!
Comments
This is a more engaging activity compared to liking others' posts. Try to write a comment in your follower's post. You may write your opinion regarding their post or simply say 'Nice post'. By leaving comments, it shows your interest, knowledge, helpfulness, and expertise. Moreover, you will be a more memorable follower as people read through the comments one by one.
Direct message
Amongst these three methods, direct message is the closest and most engaging method. By sending a message, you can have more personal and close communication. It can be a straightforward message that introduces your product and service or a more casual message that breaks the ice. But be careful with the content of your message. Don't make it too spammy or obvious that you are using the same message for every follower. They are likely to ignore such messages. Instead, make your message more specific. Include their names, job titles, or experience to make it more personal. This will allow your message to survive from a bunch of other similar B2B messages in their message box.
Bonus LinkedIn Marketing Tips
Check out your SSI (Social Selling Index) score on LinkedIn if you want to assess your LinkedIn marketing strategy. SSI is a score based on how effectively you portray your professional brand, build a relationship, find the right people, and engage with insights. Check out the areas you are lacking or compare weekly scores. SSI will give some good insight on how you can improve your LinkedIn marketing strategies.
References
https://www.linkedin.com/pulse/only-article-you-need-read-linkedin-hashtags-joe-gannon-/
https://blog.hubspot.com/sales/hidden-sales-navigator-features